8 reasons why will.i.am is the worst musician of our time
Some of you may be familiar with the dulcet tones of William James Adams, the name given at birth to perhaps one of the worst people born on this planet since Adolf Hitler, Pol Pot, or Rachael Ray.
The thing about ol' Will, though, is that will.i.am has never met an idea he didn't like and immediately say "How much?"
8. He seems to think he is famous in England.
Earlier in the year Will.i.am gatecrashed nearly every single Olympics event possible. This wouldn't have been a big deal, yet the Olympics were in England this year, and Will.i.am was born and raised in Los Angeles. Instead of letting a British athlete or celebrity carry the torch he decided to do it himself in the sleepy town of Taunton. He spent the entire time texting.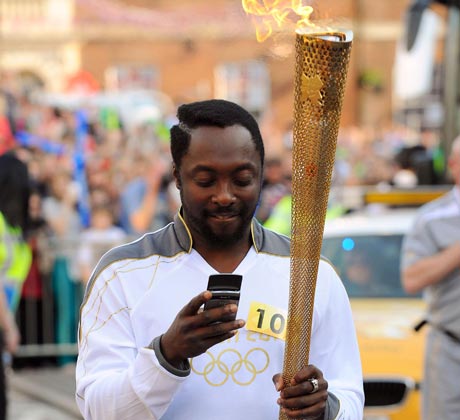 His only UK gig is being a judge on England's version of singing/talent show 'The Voice' – although this has been considered a £22m flop, with ratings sagging hugely.
Dude would show up to the opening of a letter if he was invited.
7. Will.i.am cannot dress himself.
The overriding problem with Will.i.am is that he seems to think that style is something that can be bought, not learned. Take a look at this picture from Sunday's AMA awards.
and now take a look at this still from Kanye West's video for "Mercy"
Will is cribbing huge off of Kanye's style, which brings me to my next point.
6. Will.i.am has no original ideas.
In late 2007 Will remixed his song "I Got It From My Momma" with Daft Punk's "Around The World". According to multiple sources, Will was so certain that Daft Punk would sign off on his song and take the money he went so far as to make an entire video for the remix. Take a look below:
The thing is, Daft Punk had already collaborated with Kanye West earlier in the year on the (far better) "Stronger". And Daft Punk had actually OK'd it. What kind of person knowingly takes from another artist and just assumes that they'll be OK with that if they just shovel money at them?
5. The Black Eyed Peas are terrible.
Their 2011 Super Bowl halftime show was an abortion for eyes and ears. Or, an eareyebortion.
4. The Black Eyed Peas used to NOT be completely terrible.
Sure, it's heavily inspired by J-Dilla and A Tribe Called Quest, but at least it didn't sound like the sound of a sexually ambiguous computer trying to eat itself.
3. His name is William, he insists to be called 'will.i.am'
He also has a helicopter he calls the 'hip.hop.ter'
2. Cartoon version of himself somehow more realistic than the actual will.i.am
1. His new song "Scream and Shout" with Britney Spears.
It isn't that the song is bad, so to speak, it's that he's released so many bad songs before it that when he actually releases something worthwhile (make no mistake, this song isn't bad) you're conditioned to hate it. I'm sorry, William. The worst thing is that 'Scream & Shout' is a good song, albeit in a what-would-happen-if-a-child-made-an-acid-house-track way. But after a decade of cheese, the fact that will.i.am actually released a halfway-decent song shouldn't be making headlines. He should have been doing that all along. You can't serve 51 courses of sad-ass wilted Big Macs and then give us a lobster roll. There isn't any room left for it.
Watch. This song will probably sell a bajillion copies on iTunes, and William will probably get to ride around in a helicopter powered by the last breath of Steve Jobs or whatever, but will.i.am is a soulless entity and, in my opinion, the worst musician of our time.
Sorry, man.
Cool song, though.
[Sigh]