Genius gets boner caught in roll of tape [NSFW]
We've often referred to 4chan as the internet's cesspool, but sometimes the forum  is good for a few laughs — especially when it comes at a user's expense. The Daily Dot's Luke Winkle is still brave enough to tread through the online sewer and stumbled upon a special kind of genius whose masturbation innovation resulted in the user a call for an ambulance after a roll of tape got stuck on his erect penis.
Let's backtrack a little. The long and the short of it is that a 4chan user was presumably using a roll of tape as a cockring and, to his horror, found that he couldn't remove the ring from the raging boner that refused to subside. Why did he have the roll of tape on his dick in the first place? Well, in his words, "I put it on when I was bored and a girl started sending pictues[sic] of her feet." Right, of course.
After he realized his dick was locked up in a tape roll prison of his own design, he did what anyone would do and consulted the furious masturbators of 4chan for assistance and provided pictures of his dilemma. In a thread titled "I can't lose this boner! I've had it for about 20 minutes, WTF do I do?" the user provided the following picture that kind of looks like the proof of life shot from a hostage video.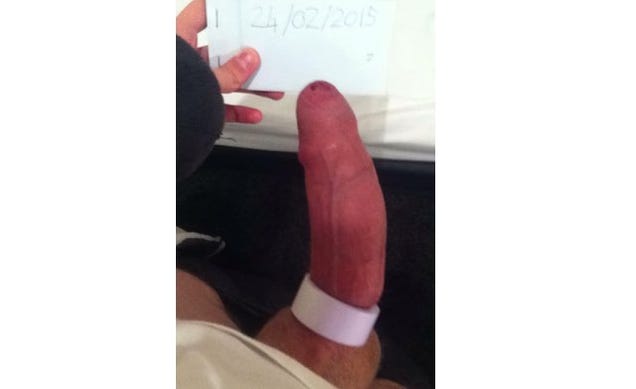 As you can imagine, very little advice from the thread was constructive. Some people advised that he do math problems or run on a treadmill to make the erection subside. Others advised him to run cold water on it, which only made the tape ring contract. Ouch! A lot of people advised him to just chop his dick off, which probably seemed like a viable alternative considering how red and painfully swollen it looked.
Our masturbating hero then gave in and called an ambulance, but made sure to draw this smiley face on his dick before the paramedics showed up.
As of now, we don't know what happened to the dude and his dick after the ambulance call, but we're willing to bet the EMTs and the emergency room staff all have great stories to tell.