Man breaks his dick during sex [seriously NSFW]
[Ed note: The penis photo below is gruesome and not safe for life. Scroll down at your own risk. We are not responsible for the devastation of your character.]
In January, we reported on a Brazilian study claiming that the woman on top position was the most dangerous for men because the position put the guy at the biggest risk for penile fracture. Probably the biggest and most horrifying takeaway from the article was that there can be an audible snap when a man manages to break his dick during sex.
Unfortunately, according to the New England Journal of Medicine, one unnamed man experienced such a snap when he managed to miss the partner's orifice entirely and jam his dick into the taint, or, the perineum, if we want to get technical. Dr. Robert J. Hartman, Jr., of Brigham and Women's Hospital in Boston, wrote that the the man then started to gush blood from the tip of his penis after experiencing the painful snap. If you haven't passed out from that description already, the unfortunate patient developed what was described as a swollen "eggplant deformity" that required surgery to correct. Oh yeah, that surgery involved delving into his dick and stitching the fracture together. Fortunately, the man went home the next day and then regained full use of his member over the course of the next six months.
We also imagine that he learned to look before sticking that thing in places.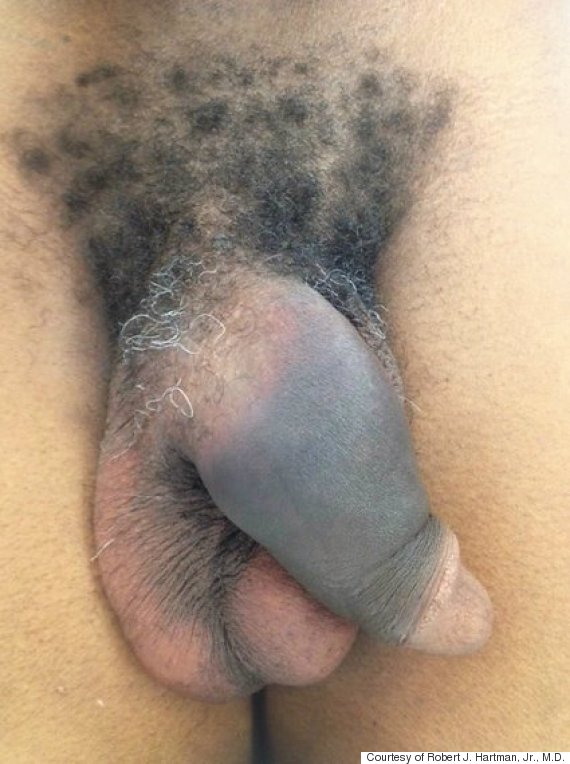 Maybe this can be a cautionary tale to everyone else considering that Dr. Hartman told HuffPo that he sees a penile fracture about once a month or so.
[h/t HuffPo]