North Carolina frat suspended for jokes about rape and lynching
It's not like we needed any more evidence to come to the conclusion that frats are festering petri dishes of startlingly racist, misogynist, and all around psychopathic behavior, but here's some more anyway. Another frat finds itself in hot water after a pledge book used by members of North Carolina State University's Pi Kappa Phi was discovered to contain horrifying jokes about rape and lynching, in addition to liberal use of the n-word.
From frat members left the incriminating book at a local restaurant where it was picked up by a waitress named Katie Perry, according to WRAL. Of course, Perry had no trouble figuring out who the notebook belonged to since the frat members had the audacity to write their names alongside "jokes" and comments like "that tree is so perfect for lynching" and "It will be short and painful, just like when I rape you."
"This is just a group of 60-something young men at State making jokes about raping people, raping children, raping dead women, making very overt racist comments," Perry told local media. "There's no excuse. These aren't children. They're my age. They're saying this. They know what they're doing."
On Friday, the national leadership placed the N.C. State chapter on interim suspension. The Interfraternity Council Friday then banned frats from holding events serving alcohol for the rest of the semester.
"It's unacceptable. It's offensive, and the things written in there are something we're taking very, very seriously," Pi Kappa Phi Chief Executive Mark Timmes said after watching WRAL's report on the pledge book. "It's not consistent with our values."
The national leadership is now working with the university to investigate which members are responsible for the notebook.
Really? Cause it seems consistent with the other frat behavior making headlines.
In the meantime, Jezebel reported that the Pi Kappa Phi's NCSU chapter has already taken down both its Facebook and Twitter accounts, scrubbing its social media presence entirely. The names of the frat's members have also been removed from its site, presumably to prevent matching up names to the ones written in the pledge book.
It's worth pointing out that the last post on the Tau chapter's site congratulates the class of 2018 for joining Pi Kappa Phi because the frat endorses  "gentlemanly behavior" and "personal ethics." Apparently "gentlemanly behavior" involves wearing Confederate flag swim trunks.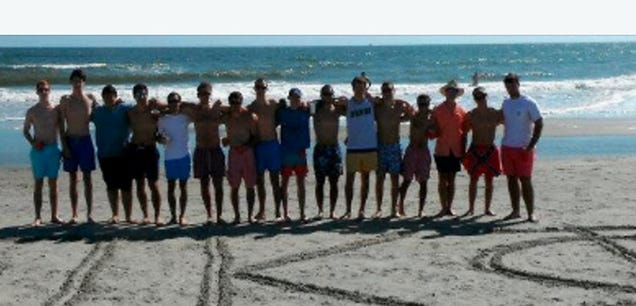 [WRAL]